DanceLova is the 1st formal dance academy in Irvine, CA (Orange County) that includes full Chinese Dance training. Students of all ages and colors are encouraged to learn this fascinating and fun cultural dance.
In addition to learning the ancient dance in its purest form, sprinkles of Chinese opera theater skills and soft Chinese martial arts as well as Modern Dance will be introduced as part of the curriculum. You'll learn how to eloquently combine the 3 different Chinese and modern fine arts to reach mastery of traditional Han Chinese Dance plus the ravishing dances of China's ethnic minorities in a new way.
Dance Instructor: Ivy Chen

Teacher's Recommendation to Parents: For kids ages 3-5, see Pre-Dance.
Class: Chinese Heritage Dance I (Ages 6-8)
Focus: Chinese Dance Basics
Dance: Han Chinese, Plus Dai & Mongolian Dances
The Chinese Heritage Dance I class is designed to teach students ages 6 through 8 (or those with little experience) the different delicate gestures of their hands and fingers, as well as correct movement of their feet. Students will learn flip skills in a very safe environment enhancing their flexibility and strength. In addition to learning fundamental skills, students will be taught a Han Chinese dance piece, plus 2 of China's ethnic minorities' dance pieces — Dai and Mongolian.

Class: Chinese Heritage Dance II (Ages 9-12)
Focus: Flow of Chinese Dance Movements
Dance: Han Chinese, Plus Yi & Miao Dances
This class, for student ages 9 through 12 (or those already with 3-4 years prior Chinese Dance experience), focuses on teaching the beautiful, soft and smooth circular movements that Chinese Dance is highly-based on, as well as the mastery of more complex jumps and flips appropriate for this age group. The Chinese Heritage Dance II class will further the improvement of the student's ability to connect the different and contrasting steps, soft and hard — and ultimately create seamless, harmonious flow from them. The special training techniques will allow dancers to develop both their gentleness, their strength, and the artistic transitions between the 2 types of movements. In addition to a new Han Chinese dance piece, colorful Yi as well as Miao dances will be taught to students.

As Seen At Joffrey West's Show: DanceLova's Ivy Chen Choreography Featured, Red Fan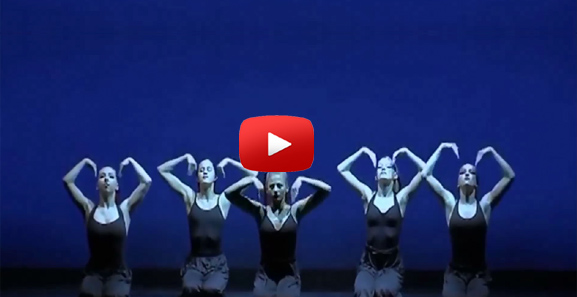 Class: Chinese Heritage Dance III (Teens, 13-17)
Focus: Aesthetics & Presentation Mastery
Dance: Han Chinese, Plus Tibetan & Uyghur Dances
Our Chinese Heritage Dance III class is designed for students ages 13 through 17. This class focuses on aesthetics — educating the "coming-of-age" dancer on artistry and presentation skills, both superficial and subtle. It is also perfect for any student with 6-7 years of Chinese Dance experience looking to refine their dance performance skills. At this level, students will learn a unique Han Chinese/Western "fusion" dance style developed by Ivy Chen, as well as the dances of Tibet and Xinjiang (Uyghur culture), two of China's largest ethnic minorities. Students will work to perfect the novel art of eclectically blending the traditional majestic forms of Chinese Dance with accents of today's Modern Dance. This power class will train dancers to shine on stage as performers, and prepare them to be able to wow audiences with this amazing piece of the Chinese culture.

Class: Chinese Heritage Dance (Adults)
Focus: Chinese Dance For Fun & Fitness
Dance: Han Chinese, Plus Mongolian & Korean Dances
This class is designed for adult students ages 18 and up interested in getting educated on the A-Zs of Chinese Dance. This "Chinese Dance For Fun & Fitness" is a non-intensive class that gives adults the opportunity to pick up some fundamental Chinese Dance skills and learn pre-selected Han Chinese, Mongolian and Korean dances from existing famous productions. It will introduce adults to basic performance skills — with emphasis on artistic expression. Adults students can now experience the beauty and energy of Chinese Dance while keeping the body in great shape!

How To Register For The Next Chinese Dance Class:
Looking for a great and fun way to rediscover your own heritage? Perhaps you're simply fascinated with Chinese Dance and would love to try something new to you.
DanceLova has already designed the right class for your age and level group. If you already know what you want, check our dance class schedule here, follow the instructions there, and get to our next class on time to start living the culture through dance!