Why travel around the world this Fall season when the world will be celebrating in your own backyard?
The City of Irvine will be hosting its 11th Irvine Global Village Festival at Bill Barber Memorial Park in Irvine. It was voted "Best Festival" by OC Weekly in 2009 and is the City's largest and most attended community event — but this year's is already expected to be the best yet.
More Than 100 Live Performances
The festival will feature live music and entertainment with more than 100 performances on five stages: OC Family stage, Kia stage, Walmart stage, Demonstration stage, and Martial Arts stage.
Food!
And yes — for you foodies out there, you will be delighted to know that as always the festival will be lined up with an endless variety of international cuisine that will have your palates simply wanting more. Did I just hear somebody say, "Om Nom Nom Nom?"
Irvine Global Village Festival Date & Location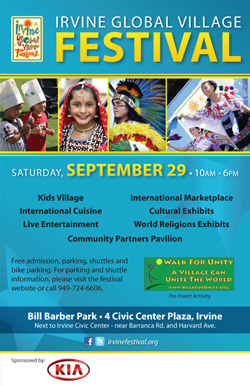 Date: Saturday, September 29, 2012
Time: 10:00AM – 6:00PM
Address: 4 Civic Center Plaza, Irvine, CA 92606
Where: Bill Barber Park (View map)
Cost: Free Admission
Here's what else: A World Mall
If the gigantic "world kitchen" isn't enough to keep you busy, stroll through the bustling international marketplace jam-packed with unique crafts, gifts, textiles, and novelties representative of the diverse cultural community that Irvine is so famously known for.
Kids Village
And parents, you won't need to think twice about whether to bring the kids along or not — there will be a festival for kids within the festival. Kids Village will feature kids-inspired, dance performances, games and sports activities, an inflatable play area, and a food selection that is kid-friendly.
Parking Tips
So here's some information on where to park. There'll be no onsite parking at the event. But the Festival will have satellite parking available which will be at locations near Jamboree & Main (about 1.4 miles from the Festival), as well as at Woodbridge Community Park (about 2 miles from the Festival).
Jamboree & Main (Parking Structure)
Parking Structure:
5 Park Plaza, Irvine, CA 92614 (Park Plaza map)
Note: Follow signs to shuttle stop on Coronado.
Woodbridge Community Park (2 Parking Lots)
Lakeview Senior Center Parking Lot:
20 Lake Road, Irvine, CA 92604 (Lake Road map)
Note: Shuttle departs from Lakeview Senior Center entrance.
Woodbridge High School Parking Lot:
2 Meadowbrook, Irvine, CA 92604 (Meadowbrook map)
Free Shuttle Buses
Free transportation service will be available via shuttle buses at both the above-mentioned satellite parking locations. Guests will be transported to the Irvine Global Village Festival event site.
Be safe, and have fun!