DanceLova's dance academy will officially be opening its royal blue doors to the residents of Irvine, CA and surrounding cities on August 4, 2012.
The announcement of the launch of the new Irvine dance studios was recently made less than 48 hours ago. More than 65 guests have confirmed their attendance and the list is growing.
The red carpet event will be hosted at DanceLova Dance Academy facilities located at Irvine's Orange Tree Square. Television media coverage of the event will be provided by NTDTV as well as Taiwan Macroview TV. The event will not be limited to only formally invited guests. Admission to this family activity in Irvine will be wide open to the general public — and free.
General admission digital invitations can be downloaded here (click on the image):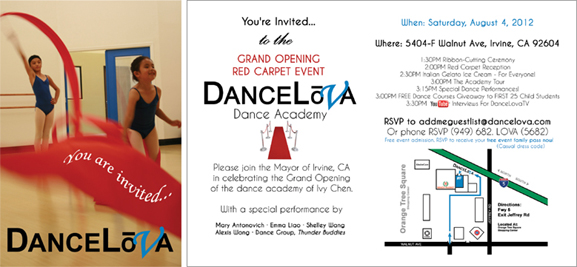 Among the guests expected at DanceLova's grand opening red carpet event are the Artistic Director of Joffrey West, the President of National Taiwan University of Arts Association of Southern California, Mayor of Irvine, and dance enthusiasts.
Following a brief ribbon-cutting ceremony and red carpet, there will be free delicious Italian gelato from Mangiamo Gelato Caffe and drinks served to everyone, special dance performances, free onsite dance how-tos, an academy tour, and even complimentary dance course giveaways!
For more information about this event:
Contact Mario Con, (949) 682-5682