[VIDEO] The long-forgotten back alley of Orange Tree Square in the quiet town of Irvine was officially brought back to life yesterday — and with some tinsel and twinkle.
Young mom of two and Woodbury resident Samantha Heaton shared, "I knew that something was about to change here… I could see that work was being done every time I drove by on the 5 freeway on the way home. Then one day I saw your big "DanceLova" sign from the freeway — and knew I had to come to see it for myself." While enjoying her cup of complimentary Italian Panna Cotta gelato, the excited mother continued with, "It's just the best location for a dance studio."
NTDTV caught up with Ivy Chen, Artistic Director and Co-founder of DanceLova Dance Academy in the midst of the busy grand opening event and asked her a few questions in Chinese…
Video: DanceLova Featured on NTDTV
Also be sure to look for Joffrey Artistic Director Alice Alyse's interview in English @1:52.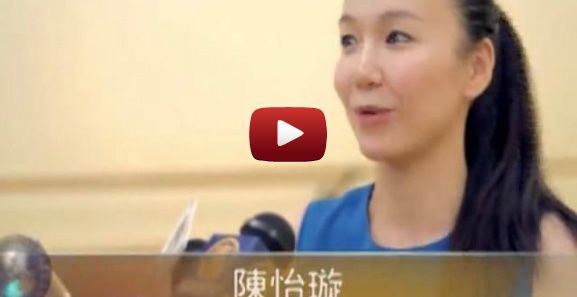 In her interview, Chen gives a brief explanation of how we can all learn more about different cultures and lifestyles through the movements of dance. Young families from Irvine and from as far as West L.A. came to join the festivities and celebrate the opening of the former Joffrey Ballet School teacher's dance academy.
A Red Carpet For Families?
The event was kicked off with a ribbon-cutting ceremony and was immediately followed by a red carpet reception — yes, Hollywood-style. "People of all ages and backgrounds will always be treated like stars at DanceLova. Famous actors and pop singers aren't the only individuals that deserve to be in the limelight," explains Mario Con. Photographers Charlie Lac and Audrey Wang captured many of the best moments through the eyes of their lenses.
PART II: GRAND OPENING EVENT PHOTOS:
ALL 43 PHOTOS HERE: View Part II (43 Photos) »
But what's a red carpet for families on a summer afternoon without some gelato ice cream? DanceLova brought in Huntington Beach's famous Mangiamo Gelato Caffe to scoop up and hand-serve guests with different flavors of the frozen Italian gourmet treat.
The 129 guests also watched dancer Shelley Wang and Chen herself rock the party with a spectacular dance performance in Studio A, aka The Pavlova Studio. The event also included free hands-on lessons and dance course giveaways.
The dance academy offers special promotions from time to time. Visit the website's offers page to get the current specials on dance classes.
So the next time you drive by the Jeffrey Rd exit on the 5 freeway, keep your eyes peeled for that welcoming "DanceLova" sign!