[VIDEO] So what happens when you take two cultures and fuse them together on a dance floor? That's exactly what DanceLova creator Ivy Chen sought to discover.
When New York City-based Joffrey Ballet School invited Chen to teach a group of eager-to-learn dance students the art of Chinese Dance as part of Joffrey West's summer dance training intensive, it was naturally an honor well-received by the Irvine-based dance instructor.
The Real Challenge
Seconds after accepting, 30-year-old Ivy Chen knew that she now faced the challenge of fully-preparing a group of students ages 12-25 for Joffrey West Program's culminating performance. The real challenge? The performance was in four weeks, and not one of the students had ever trained in Chinese Dance — some had never even seen it before.
BEHIND-THE-SCENES VIDEO: Students' Progress After Just 2 Weeks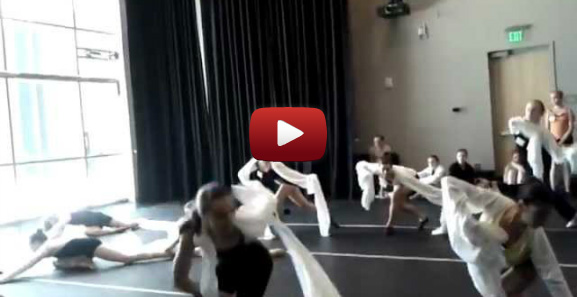 As a member of the the program's high-caliber faculty which included Mia Michaels and Mandy Moore both of So You Think You Can Dance, Joffrey West Artistic Director Alice Alyse, choreographer Josie Walsh and other renowned professional dancers, Chen certainly was not alone in this 1-month mission.
Every Dance Has A Story
"I was aware that time was short. And to make it even more challenging was the fact that Chinese Dance movements were unfamiliar to all of them. So I decided to give them a quick Chinese history lesson," said Chen. "Shortly after that," the Taiwanese-born Chinese instructor explains, "I introduced them to the actual dance movements and Shuixiu — the white 'water sleeves.' This was important because the evolution of Chinese Dance is deeply rooted in China's long, majestic, romantic and at times turbulent history."
Two Dozen Move Forward
24 of the 200 dance students were later selected by Ivy Chen to perform at Joffrey West's performance. "I was blessed to have such hard working students. They were able to nail down the piece I choreographed for them within the few weeks time, and were ready to shine both individually and as a team on stage as they so much deserved."
New Update…
The 24 students performed the dance on the evening of July 27, 2012 at CSUN's Valley Performing Arts Center. Watch how the 24 students rocked the stage!