"THE Recital" by DanceLova: June 2017

Recital Home / Calendar / June 3 & June 4
June 3 & June 4
'THE Recital' by DanceLova
It's Showtime Lineup:
See 3 showtimes below
Important: Check-in time is 1 hour before your showtime.
What to Expect and Prepare For:
Instructions
Where:
IVC Performing Arts Center
5500 Irvine Center Dr, Irvine, CA 92618 Map
The building and parking lot is actually along Jeffrey Rd.
It's showtime, everybody! Have fun!

 – 'THE Recital' Instructions –
(Please Read)
1. Arrive 100% Ready
Dancers MUST ARRIVE ALREADY DRESSED in their costume, hair and make-up ready for the recital show.
Need tips? See our article Make-Up Tips For Recital
2. Check-in Time
Please be on time! All dancers will need to arrive at IVC Performing Arts Center at their assigned time. Refer to the It's Showtime Lineups above.
Check-in for the recital is different from the dress rehearsal day…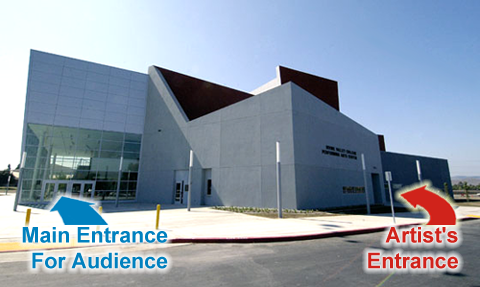 DanceLova staff will be at the "Artist's Entrance" to check in each dancer for the recital.
Child Dancers
After checking in and dropping off their child dancer(s), parents will simply walk around to be admitted now as an audience member through the Main Entrance. IVC Performing Arts Center's staff will be scanning tickets at the Main Entrance, so remember to bring your tickets with you!
Adult Dancers
Check-in is the same as on dress rehearsal day.
Parent Volunteer Chaperones
Check-in to be issued your special backstage ID badge.
Dancers, parents and volunteers will be additionally guided by staff at the time of check-in.
3. Parking
On recital days only, you will not need to pay for parking as long as you park in 'LOT 5'. The venue's management has already agreed to provide free parking on recital days for all of DanceLova students and guests parking in 'LOT 5' as per our request to them. 'LOT 5' is the nearest to the IVC Performing Arts Center entrances. If for whatever reason, you park in a different lot, you will have to pay for a permit. They patrol, and will give citations if your car is parked in another lot and doesn't have a permit.
4. During the Show
Only dancers and their chaperones are allowed backstage during the entirety of the shows.
5. After the Show: Check-out/Pick-up Time
Everyone backstage is required to check out at the end of each show.
Dancers and Chaperones
EXIT through the original "Artist's Entrance" door by checking out again there.
Parents: Child Dancer Pick-up
Parents can pick up their child dancer(s) after the show.
Simply EXIT through the Main Entrance door, and your child dancer(s) will be safely waiting for you with our staff at the "Artist's Entrance" to be checked out.

Theater Policy
* NO FOOD IS ALLOWED IN THE THEATER AREA *
IVC has stated that it will cancel the entire show if anyone does not follow this policy.
(Food is okay only in the lobby area and inside the "Green Room" backstage)
* NO PHOTO, NO VIDEO RECORDING IS ALLOWED DURING THE SHOW *
The reflections of lenses and flashes from cameras and cell phones create a visual distraction and safety hazard for all performers on stage.

Back to Calendar: Click on the dates below to read upcoming action item details:
2017 Action Items

The Important Dates to Remember

Production Progress Status:

Dancer Recital Sign-up - DEADLINE
March 8

Wed

Completed
Parent Volunteer Sign-up - DEADLINE
March 8

Wed

Completed

Costume Sizes - Body Measurement Week

March 9 - March 15

Thu - Wed

Completed

Parent Volunteers - First Meeting

April 14

Fri

Completed

'Costume Glam' - Photoshoot Day

April 28 - April 30

Fri - Sun

Completed

Buy Tickets Online - Priority Presale

May 1 - May 2

Mon - Tue

Completed

Buy Tickets Online - Open to All

May 3 - May 31

Wed - Wed

Completed

'Grand Stage' - Dress Rehearsal

June 2

Fri

Completed

---

'THE Recital' by DanceLova! (Sat)
June 3
2 Showtimes

Sat

BRAVO!
'THE Recital' by DanceLova! (Sun)
June 4
1 Showtime

Sun

BRAVO!