2017 Summer Camp Week in Irvine

IRVINE, CA – We've had a lot of parents already begin asking us weeks ago about registration information about 2017's Summer Camp at DanceLova.
Here's the information you need…
Overview of The Dance Camps
Each participating dance student will be placed into different classes based on their individual levels. While lots of fun, the DanceLova summer classes will highly-focus on developing dedicated dancers.
The camps are specially-designed to expose kids and teens to a variety of dance styles with emphasis on dance technique. Through the classes, dancers will be well-guided to better understand the art of dance and deeper explore their favorite styles and inborn talents.
For all kids ages 6 through 12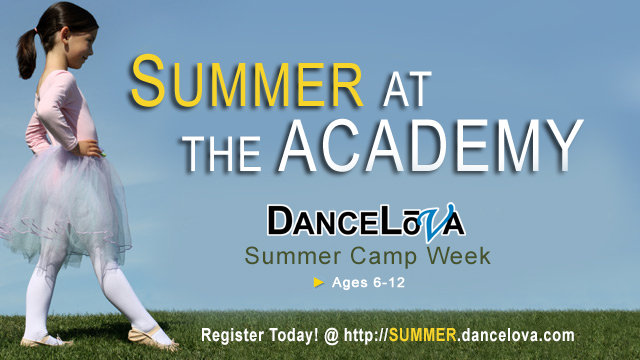 The Special Curriculum Will Include:
Classical Ballet, Jazz, Hip Hop, Lyrical, World Dance (Bollywood, Chinese, African Dance), Tumbling, Yoga, Stage Make-up, Musical Theatre, and introduction to the performing arts.
The Dance Camp Week:
July:
Dance Camp Week: July 17-21, 2017
Camp week includes 5 days, Mon-Fri, 9AM-3PM.
Tuition: $199
Registration Dates:
Online Special for Early-Birds!
Register before April 27, 2017 5:00pm — and receive $10.00 OFF.
Final Registration Deadline:
June 30, 2017 5:00pm (Register & pay online now)
Status: CLOSED
More info: View Brochure + Reg Form
How to Register…

By Email/Phone/Postal Mail:
Print/Download: Summer camp brochure (includes this year's summer camp "Quick Registration Form" on Page 3)
Return the completed & signed form (Page 3 only) via either:
– In person (address below), or…
– Scan and email as attachment to dance@dancelova.com
or…
By Online:
Payment:
Space is limited for each camp. If you prefer not to register and pay online, a completed & signed registration form must be submitted by email or postal mail, and payment must be received in full within 3 business days to guarantee your spot in the camp you have chosen. Payments can be made in person or by phone. Contact us
Location:
DanceLova Dance Academy
5404 Walnut Ave STE F
Irvine, CA 92604
(949) 682-5682
Note: Behind the 99 Ranch Market Building (Map)
On behalf of the DanceLova faculty and staff, we wish you a fabulous upcoming summer!