Tommy Miller joined the DanceLova Dance Academy faculty in January 2016. The SAG-AFTRA member and celeb dancer is bringin' the house down at the Irvine dance school with his unique style of teaching. Kids as young as 9 years old through teens and adults are jam-packing the classrooms every week with their art, energy and sweat and joy.
Tommy Miller began his dance career at the age of 10. With his father being a choreographer for artists such as Michael Jackson, Usher, Britney Spears, and Beyonce, he was raised in the entertainment industry and flourished into a natural at his craft. He has since been training and progressing in various styles of dance, specializing in Hip Hop. Tommy has danced for artists such as Mary J. Blige, OutKast, Raven Symone, Big Boi, Roshon Fegan, Olly Murs, and Tiffany Evans. He has trained with choreographers such as Fatima Robinson (Will.i.am), Hi-Hat (Rihanna), Misha Gabriel (This Is It), Tony Testa (Janet Jackson), and Dave Scott (You Got Served), to name a few.
Tommy is signed with one of the top Choreography and Dance agencies in Los Angeles, MSA. He is a union member of SAG-AFTRA. He has appeared in numerous television shows and live performances including The Kids Choice Awards, The Halo Awards, It's Always Sunny In Philadelphia, That's So Raven, Nick Kids, Disney XD, Tarzan 2 Promo, Little Caesar's commercial, Wild And Crazy Kids, Today's The Day, and is most recently appearing in Disney's Shake It Up, to name a few.
Tommy has taught at numerous dance studios and companies around the country, including UCLA, International Dance Academy, AMDA, Boogiezone, Muse Dance Company, In The Groove Studios, Elite Studio of Dance, Dance Connection, Steps Dance Center, Jayvee Dance Center, Just Plain Dancin', and many more!
Tommy is steadily growing his YouTube fan base.
Watch the Video Reel: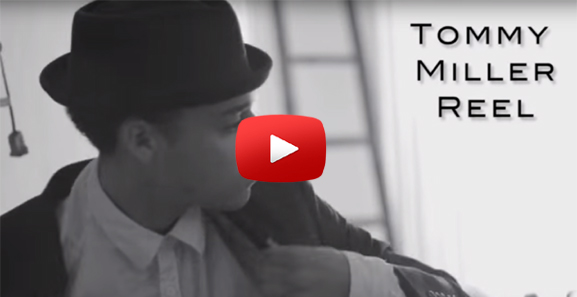 Tommy Miller teaches Hip Hop at the DanceLova Irvine, CA location for the following age groups:
Hip Hop for Kids: Ages 9 through Teens
Hip Hop for Adults: Dance Gym